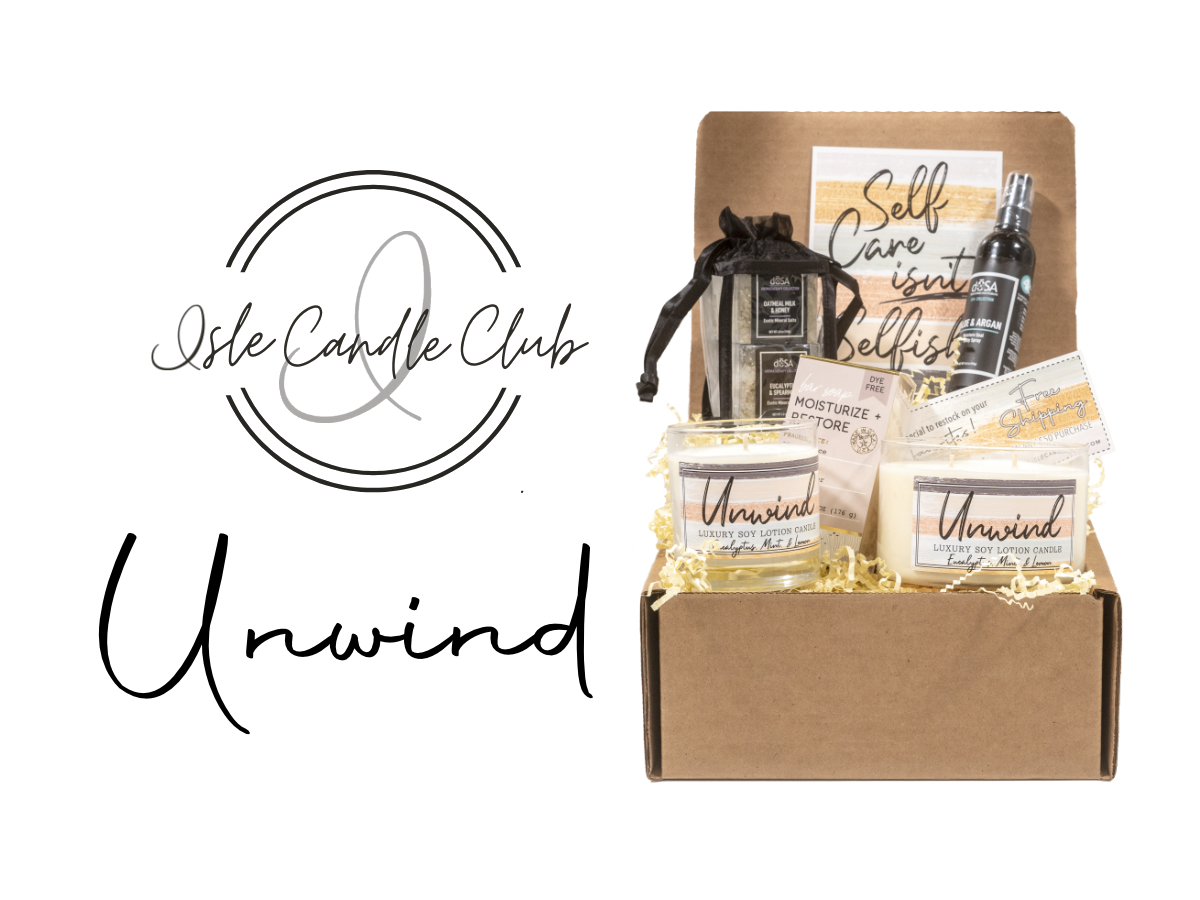 The phrase "you cannot pour from an empty cup" is used so 
often because it's TRUE. Handling stress becomes quite challenging if we constantly feel depleted by physical and emotional exhaustion. Taking time to recharge is critical for our overall health. When our minds and bodies are rested and cared for, we become more resilient, energetic and productive.
A relaxing bath is a quick and easy go to when you're desperate for some zen. Here are a few tips to transform your bathroom into a peaceful oasis! 

Lighting your favorite Isle Candles is the first step and will fill your space with a beautiful glow. Next, turn on calming music and grab that book you've been trying to get through. Consider a face mask, bubble bath or exfoliating scrub for an extra special treat. A glass of wine or cup of tea and you're well on your way to the most relaxing at-home soak!
We hope the products included in this month's box inspire you to carve out 

some much needed (and well deserved!) time to Unwind.
…..
SHOP OUR ONLINE STORE | CANDLE CLUB FAQS | JOIN THE CLUB
SOY LOTION CANDLES: Dip into the warm, melted soybean 
oil for use on your skin as a luxurious moisturizing lotion! 
A gift tag is included if you choose to share.
EXOTIC MINERAL SALTS – dŌSA's Bath Salts mimic the properties of natural mineral baths or hot springs and are ideal for detoxifying and soothing sore, achy muscles. Hold a generous handful under faucet and allow 
salts to fall into the tub. Relax and enjoy!
MOISTURE SEAL BODY SPRAY – Made with 9 natural ingredients, this spray will polish, hydrate and moisturize your skin. While your skin is still damp, spray oil over your entire body. A little goes a long way and 
works wonders to replenish dry skin!
LUXURIOUS BAR SOAP – Rice Soap is the ultimate skin delicacy! Created using the finest of ingredients, this bath bar will leave your skin restored, wonderfully scented and gently cleansed.